Service Times
8:00

am
Sunday 8:00 am
Sunday
9:15

am
Sunday 9:15 am
Sunday
10:30

am
Sunday 10:30 am
Sunday
6:00

pm
Sunday 6:00 pm
Sunday
6:00

pm
Tuesday 6:00 pm
Tuesday
Iglesia Bautista Galilea: Reuniones De Estudio Biblico En Espanol
6:30

pm
Thursday 6:30 pm
Thursday
How To Find Us
Find us from Don Laughlin's Riverside Resort Hotel and Casino
Head north on S Casino Dr toward Laughlin Civic Dr. Turn left onto Laughlin Civic Dr. Turn left onto Thomas Edison Dr. Turn right onto Bruce Woodbury Dr. Turn left onto Needles Hwy. Laughlin Community Church is on the Left. If you reach the stop light you have gone to far.
Find us from Avi Resort & Casino
Turn right onto Aha Macav Pkwy. Turn right onto Needles Hwy. Laughlin Community Church will be on the right, immediately after the second light.


Look For the Blue Roof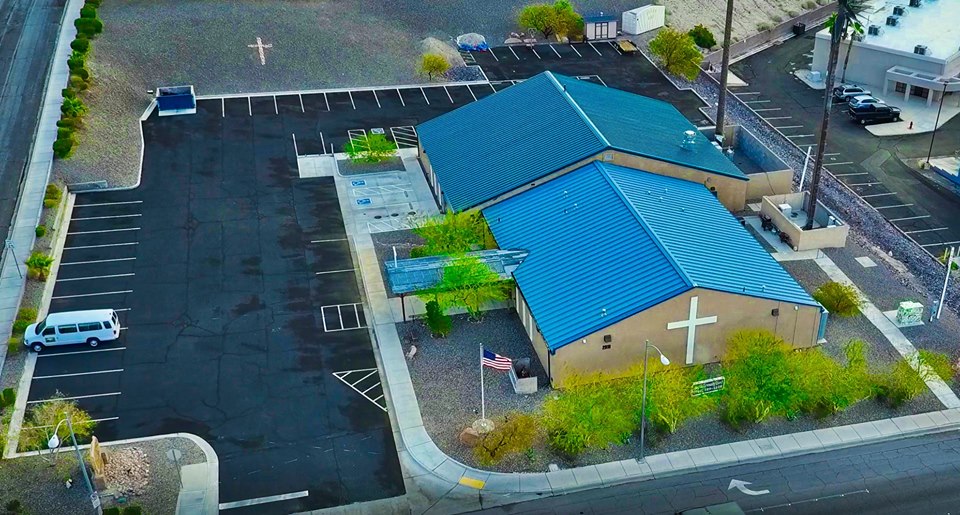 Get Directions via Text
Enter your full mobile number. Standard messaging rates may apply.
Questions & Answers
If you have a question that isn't addressed here, feel free to call our church office and let us know how we can serve you. Our number is (702) 989-1228.
What do you do during your worship service?
After a warm welcome, we start off with some singing and some praying to express our thanks. You may recognize some of the music. You will also hear a sermon from the Bible. We celebrate communion or Lord's Supper the first Sunday and Tuesday of every month.
Our Sunday morning and Tuesday evening worship services are usually between an hour to an hour and fifteen minutes long.
Will there be instruction for young children?
Yes. We love you and we love your children. Jesus wanted all of the children to come to Him and we feel the same way about your kids. We have a nursery that is staffed at every service. Our hope is that your young ones will sing and pray right along with the rest of us. At our Family Worship Service before the sermon starts, we offer an opportunity for any child to join in with our Safe Haven (children Church) Program. But all children are welcome to stay in the service.All our children ministry staff and volunteers have passed church mandated background checks and most of our workers are CPR and First Aid Certified through the American heart Association.
Will you ask me to give you money?
We never ask anyone to give and we always tell our guests not to. Because God has given us everything in Christ, but many people want to give and help support our church. So we provide a time during the service for them to do so. However, no one is ever pressured to give because the Good News is ALWAYS a free gift. We just want you to come and receive what God wants to give you.
What should I wear if I visit your church?
We want you to come just as you are. We are here for you, no matter how you're dressed. Most people wear whatever makes them comfortable and they feel is appropriate for the setting. That usually changes from week to week depending on the weather.
Within our church building, we have a beautiful sanctuary and a large community room with a large kitchen equipped with commercial size ovens, stoves, and refrigerators for special events and everyday use. Connected to our community room, we have large class rooms for adult, teenager, and pre-teenager Bible Study classes. We also have a dedicated room for our toddlers – fully equipped with toys, games, and Christian books for our youngest members.